I expect you have been as glad as me now that normal weather service has been returned – I can now spend my days out and about rather than hiding from the sun. The rain has rained, the grass has grown and Eel Brook is starting to flow again. The canal seems to be coming back to life with more boats coming along even though it's still shut by Middlewich. I found my way blocked by these two big birds who kept making a hissy noise, a bit like the grandchildrens' football after I killed it ..... but that something they don't know about.
So I was out in the maize the other day – did you know badgers knock it down? – and coming out at the other end I met a mini-me! Welcome to Baxter, another black Labrador who looks a bit condensed at the moment but will soon be allowed off his lead and able to play with me properly I hope. When he does perhaps himself will take a picture to show you, like he did of Harry last month.
I took my people to Delamere Forest the other day, with my pal Dexter and his mum and dad, Roger the Dodger and Sue from number two (OK, OK I know they don't live at number two now but himself still calls her Sue from number two). We got there first and could hear them coming – Dexter has a strong voice and was clearly excited. Himself said it showed how little soundproofing their car had but herself told him to hush in case they heard him. No chance over the racket Dexter was making! When we meet them for a walk herself brings a flask of coffee and some of her home-made biscuits. Roger likes them a LOT but I'm not allowed to tell you how many he had. We ran and the adults walked up Old Pale Hill (on a steep bit I overheard the men muttering that they would rather have a glass of pailail whatever that is) and when we got to the top they got excited about something they called the "view of seven counties". Dexter and I were more excited about the bag of treats (aka essential dog supplies himself adds) that we know Sue keeps in her pocket. Every time Dexter runs off she calls him back and he gets a treat. Who's training whom I ask you! It didn't take me long to work that game out and the bag was soon exhausted!! Here's another strange thing about humans: himself carried some black seeing things up the hill and looked through them at the "view of seven counties". Then the others did the same. They were getting excited about seeing Old Trafford and the Liverpool Anglican Cathedral – life's in front of your eyes, people, not away over there! Anyway they just thought I was barking at rabbits.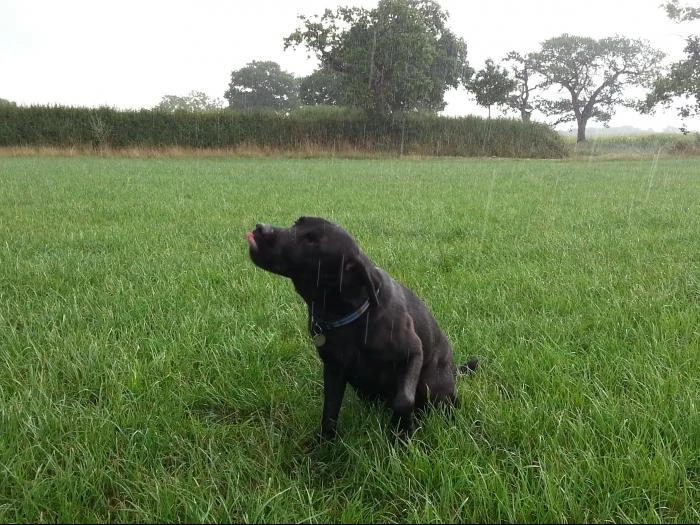 So summer will soon be over and next time I speak to you it will be autumn. In the meantime I'll share this picture of me enjoying the taste of the fresh rain – probably better than himself's pailail!
Madai the Labrador- your rovering reporter. Follow this link to my home page and old blogs. A prize this month for the first person to write in about the feeble pun himself has inserted somewhere in the article, you can contact me at – madaithelabrador@gmail.com. If you can't spot it I'll prompt him to put a clue here at the end of the blog in a couple of weeks.
Clue – think soup
PS: he had four
PPS: FOUR!!
PPPS: biscuits in case you'd forgotten