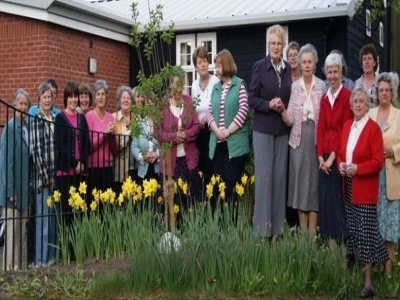 The National Federation of Women's Institutes' started in 1921 for the benefit of country women, to educate and to encourage them to take active roles in their local community. It is the largest organisation for women in the country with 215,000 members in England, Wales and the Islands.
Church Minshull W.I. was started in August 1946 with 21 members. Meetings were held on the 3rd Wednesday of the month in the School and the annual subscription was 2/6d. The first president was Miss Amelia Brereton – post mistress, Secretary Miss Upson (a local headmistress) and Miss Kathleen Steele was appointed treasurer. The meetings moved to the Village Hall in 1963 when the new Hall was opened.
One of the standing orders was that girls over the age of 14 would be admitted! In those early days of rationing members were required to bring their own refreshments but paid 2d. for a cup of tea. During 1946/7 several food parcels were received from The Country Women's Association of Murray Bridge, New South Wales, Australia.
A note in the minute book records the cancellation of a meeting in 1947 because there was no electricity available. At that time electricity was generated by dynamos driven by the water mill which was no longer in use for grinding grain. Mrs Billinge, who lived at Mill House, controlled the supply from the Mill to the Village.
Sadly there is no longer a Women's Institute in Church Minshull