The first village school was located in the church and taken by the minister, until the first schoolmaster was employed, named Thomas Wilson, who was buried in 1652. Eventually, in 1785, a two roomed school was built, mainly financed by donations.
Henry Brooke, son of Thomas, who had purchased the Minshull estate in 1790, left provision in his will for a new school to be built in 1871.
The photographs show headmaster Robert Kitchen and his wife with the school children.
The old school was converted into the schoolmaster's house and still stands today, but it is now a private home called 'Sunnybank'.
In 1903, Henry's nephew and successor, Charles Luxmoore, was of the opinion that it would be in the interest of the parish if the County Council purchased the school from him.
He was disposed to take a reasonable price, probably one third of what it would cost the County Council to erect a new one.
If they did not agree to purchase he was willing to let the school to the Education Authority at the nominal rent of £15 per annum. However, on 30th June 1905 Charles sold the school to the County Council for £450 this included all the outbuildings and land amounting to 2 roods and 11 perches.
The school was finally closed on 22nd July, 1982 and is now a private home and pottery.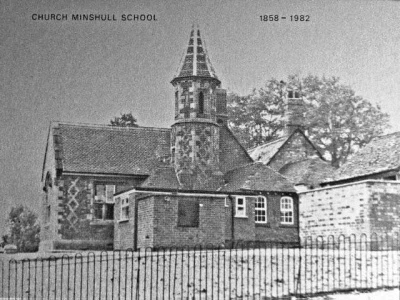 1982 Church Minshull School