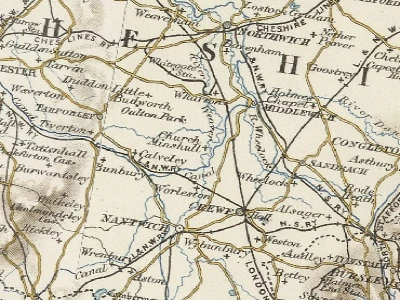 In 1870-72, John Marius Wilson's Imperial Gazetteer of England and Wales described Church Minshull like this:
"MINSHULL (CHURCH), a village and a parish in Nantwich district, Cheshire. The village stands on the river Weaver, near the Middlewich canal, 2 miles SW of Minshull-Vernon r. station, and 5½ N by E of Nantwich; and has a post office under Middlewich. The parish contains also the hamlets of Wades-Green, WoodGreen, and Paradise-Green. Acres, 2,286. Real property, £3,424. Pop., 392. Houses, 76. The property is divided among a few.
The manor belonged, at Domesday, to the Minshulls; went, in the time of Edward III., to the Duttons; returned, in the time of Henry VII., to a junior branch of the Minshulls; passed, in the time of Elizabeth, to F. Cholmondeley., Esq.; was afterwards sold to Sir Richard Brooke, Bart.; and belongs now to Henry Broole, Esq. Minshull Hall is now a farm-house.
Lea-Green Hall was a mansion of the Vernons. passed to the Crewes, and is now a farm-house. The living is a vicarage in the diocese of Chester. Value, £108. * Patron, H. Brooke, Esq.
The church is a brick edifice, of nave and aisles, with a tower; was recently restored, at a cost of about £800; and contains monuments to the Minshulls, the Cholmondeleys, and the Wades. There are an endowed school with £15 a year, and some charities".