Welcome to my November blog! There's lots of things I want to tell you so I've asked himself not to mess about with the keyboard like he usually does.
But before we get going I let himself put this bit in because his warped sense of humour appreciates these sorts of things: so have a look at the "7 years ago" news article – if anyone is missing the Rhos Choir we now know they were finished off in the Badger!
On with the main stuff: it may comes as a surprise to locals but my musings are widely read outside the village and they may not know that it rained a bit here at the end of October. This picture shows me sitting on the concrete track at the back of village farm. The maize had just been cut in the fields at the back of the pub and the ground compression from that and lack of foliage in the fields probably contributed to the run off into Eel Brook which got rather "lively". Click here for the article. It also got rather smelly which may have been field and farm-yard run off but may have had something to do with Eel Brook flooding at the back of the Badger affecting their septic tank. The Environment Agency were seen in the village a couple of days later .....
As it is half-term in Ireland the "green team" were over to stay with us and himself took eldest leprechaun down Eachus Lane to see the flooding of the River Weaver, and to educate him about British history: viz King Canute. Quick as a flash the wee green man suggested that Grand-dad should play the role of the King and he would walk home to report back on the outcome! Hmm, revenge will be plotted ...... The green contingent had brought my mate Tess with them and with the current craze for naming breeds of dogs after their constituent parts I call her a Lepredor (Leprechaun/Labrador in case you haven't got it). Anyway she enjoyed walks in the fields and along the canal, bathing in the Weaver once it had gone down a bit and meeting my pals Baxter and Molly. I've put in a picture to show her uncanny resemblance to a monster!
So have you noticed the important notice at the top of the village website homepage? We're going to have our software updated so naturally I've put in for extra thick mats for my kennel and a special dog rug for lying in front of the fire. Himself said if he heard any more of these daft suggestions he would get me a pair of these ridiculous clothes and make me parade through the village in them!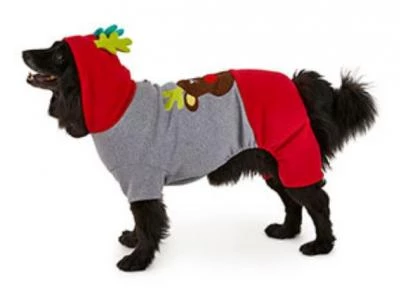 And finally, explanation for the title Neverendum – himself wanted to get this in, being one view of the Brexit shambles.
Madai, your rovering reporter
PS: a special treat of one week's dog biscuits to the first person to correctly recognise where Tess was pictured by the monster. Answers on an electronic post-card. (eMail address below)