A while ago, CM Vision asked the Youth Club to come up with a character, called 'The Minsh', for Church Minshull. The children were asked to come up with any features they wished and to submit drawing of their character.
The Youth Club team leaders short-listed the entries to nine of the members and returned these to CM Vision for a final selection of an overall favourite. The short listed drawings can be found clicking here.
Kerry Bannon, chair of CM Vision, presented a Royal & Langnickel Sketching Travel Set to each child who was short-listed as a token of thanks and congratulations on their excellent work. CM Vision stakeholders voted on their favourite, and we are pleased to announce that Faye Hough created the winning design for 'The Minsh'. Congratulations Faye and well done!
The ARENA webteam has had the design "cartoonized" by an artist and we are pleased to be launching the Minsh along with the new ARENA website.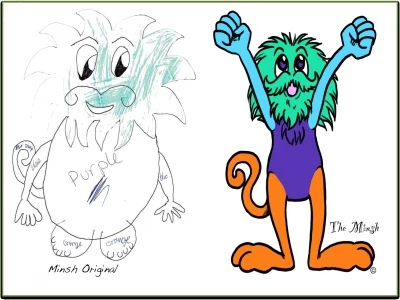 The Minsh's transformation