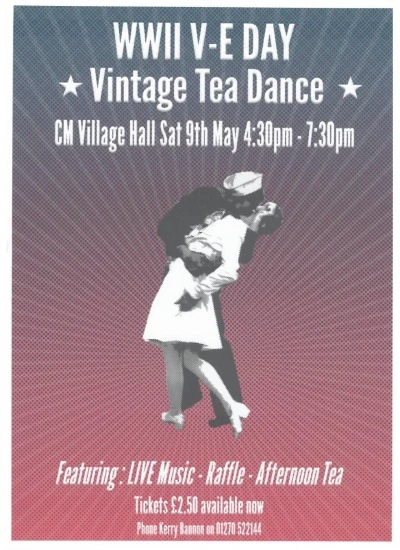 Come and join in the 70th anniversary celebrations of Victory in Europe.
Step back in time on Saturday afternoon 9th May, 2015 with CM Vision's ' Vintage Tea Dance' being held at 4:30pm – 7:30pm, in the Village Hall .
Come and have a lovely cup of 'rosey lea' on us, by enjoying a drink from antique teapots, china tea cups with loose leaf tea, but no rationing of sugar, this time around...!
Be waited on by the staff in themed costumes of WWII apparel, whilst perusing the memorabilia, listening to poem recitals, or watching a film of the day on the big screen.
Lots for everyone...kids quizzes and music of the era...! Jitterbug to a live band, or partake of afternoon tea, in your own, more relaxing way.
Tickets are £2.50 each from Kerry on 01270 522144