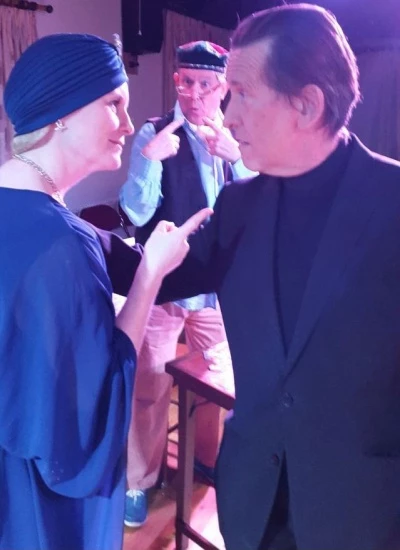 The two nights of the production at Church Minshull ended with a review from 'Granada Reports' reporter, Paul Crone.
When speaking to director, John Headon and some of the cast after the show, he said "It was really brilliant and very funny, you must have heard me laughing. All the players were excellent and played their parts really well. I loved the superman role. Well done!"
He has asked if he can join the group and be in the next show, planned for October.
Further comments have been:
"Well done. Good night. Hilarious!" Jane H.
"So good. I don't know how they learned all those lines" Barbara R
"It was just brilliant and so funny" Sean D
"I was looking forward to it, but didn't realise it was going to be such fun. Everyone was so good, well done" Liz D
So now the show moves on to Bunbury for two more performances on the 13th and 14th March.
The stage is set and the players confident, so bring it on guys!