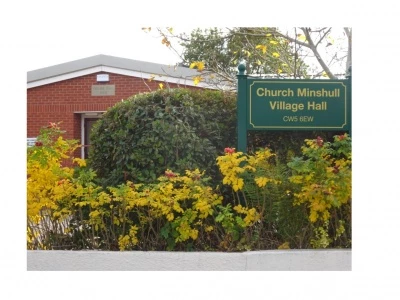 The Future of the Village Hall.
  As part of the last update on Church Minshull Village Hall and the actions the Trustees have taken during the Covid 19 lockdown earlier in the year to make sure that its reopening in September would be as safe and sanitised as could be, I touched upon the Trustees wider vision for the future of the village hall; not just beyond an immediate post-Covid world, but one probably ten years away.
 That future, given that the finite life of the existing wooden building is likely to end sometime in the next decade, should be as part of the wider amenities of Church Minshull that would be encompassed within the over-arching role that the Parish Council has to ensure our village meets the aspirational aims and needs of all its residents. In short, as a community facility, the village hall must align with the wider aims and objectives of the village and be part of the envisioned future of Church Minshull strategically driven by its Parish Council.
 I mentioned in my previous update, that a working group formed to construct and implement a future strategy for the development of Church Minshull Village Hall has been set up consisting of some of the Trustees of the village hall and the Parish Council and other village residents. The first action of this newly formed body is to conduct a simple survey amongst Church Minshull residents and existing village hall user groups to determine both the potential usage for a new, modern building and the scope and scale of the facilities contained within it.
 Over the next few days details of the survey and how to take part in it will be distributed to every household in Church Minshull and it is also available to download (See the bottom of this article). Do take the five minutes or so that will be necessary to complete the survey; your views and suggestions are essential if we are to have a future village hall facility that meets the requirements of Church Minshull and its residents and continues to make our village such a fabulous place to live.

David Barrett
Church Minshull Village Hall Trustees.

Click this link to take the Online Survey
or click this link to download the Survey (in Microsoft Word® Format).