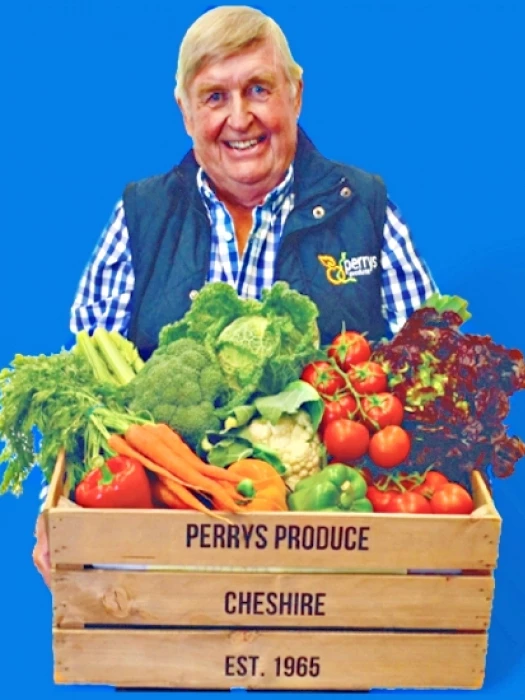 Perry's Produce Fruit & Veg Van will be at Church Minshull Village Hall Car Park this Saturday 21st March from 9:30am till noon.
There will be limited parking space in the car park and there will not be any facility for card payments so cash is the only acceptable payment method. Click HERE for their Website.
Spread the word for our local business men!
""Quite a few people rose to the challenge in the blustery icy wind and created a large "social-spacing-awareness" queue and awaited their turn. Perry's Produce we selling lovely fruit and veg, bread eggs and milk. Everyone went home with large shopping bags full of groceries. We wonder, will they come again and visit us? – watch this space
P.J. 21/3/2020 ""
""It was an interesting day as it turns out Steve who was serving customers, is a Church Minshull lad! He lived on Weaver View for a couple of years, went to the village school and used to spend time with the farmers and at the forge. He remembers the school, The Smithy and the village shops. He knew so many people who visited the van and spent time talking with many residents. "It was great to see friends and neighbours out and about, even it was at a 'social distance.' " Many residents were shopping on behalf of others residents too.
We hope to do it again next week but are waiting for confirmation.
J.J. 22/3/2020 ""

Update...

""I regret I have not been able to arrange another date to repeat the success of last Saturday – YET! Perry's have been inundated with similar requests and are finding it difficult to satisfy demand. Consequently, Perry's have said they cannot come over this Saturday (28th March). However, they will let me know early next week a suitable date to return, which may be any day! Please also note that they have said the next visit will only provide a mixed box of fruit & veg for £20. This is to try and maintain the safe distancing that the last visit was not very successful at achieving! There will be no mix & match selections. I think they may also have some dairy boxes too but this is not certain as yet. R.J. 27/3/2020""