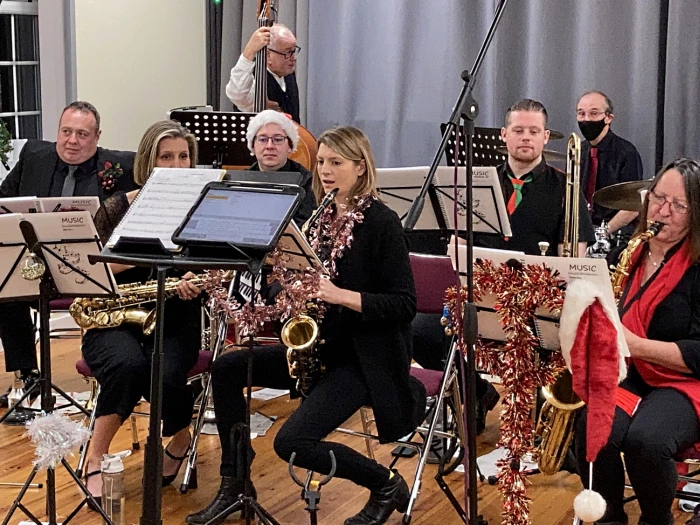 The Swinging Woodpeckers performed a "Christmas Swing"
Village Hall 18th December
When the event was conceived it was decided to limit the tickets available to 60 so that the spacing for the audience could be managed safely. All the tickets were sold! Indeed, a number of people were disappointed when the enquired about available tickets. In the event the various media stories and general concern over the rapid spread of the Omicron variant meant that approximately Half of the audience stayed away from the even, ironically making attendance safer for those that did go.
Those attending were entertained by a group of 16 musicians assembled and directed by Richard Cluley- hence the name of the Band- Swinging Woodpeckers, as much of the early work had been focused on assembling groups of musicians at Woodpecker Cottage. It was a formidable range of instruments: Flute, Clarinet, 2 Alto Saxophones, 2 Tenor Saxophones, Baritone Saxophone, 2 Trumpets, Two Trombones, Euphonium, Double Bass, Guitar and Drums. Additional percussion was added by various band members for some numbers
The audience experience a wide range of music including The Muppet Theme, James Bond Theme, Fly Me to The Moon, Tequila, In the Mood, Moonlight Serenade in the first half – the band playing a range of music from various periods since and including the Swing Era. The second half was devoted to a Christmas theme with swing treatment of some Christmas standards such as God Rest Ye Merry and Let It Snow as well as more traditional arrangement of O Holy Child and Mistletoe and Wine. Shakin' Stevens' Merry Christmas even had an airing! The event was programmed to conclude with the well-known Sleigh Ride (with audience participation!) but the appreciation shown by those there was such that the Band had to play an encore.
It was clear that the band was easily capable of filling a much bigger space than the Village Hall, as the windows were left open to comply with guidelines passers by and may be those living nearby had a free concert.
The original aim had been to sell the tickets to cover the hire of the Hall only and also raise some finds for "Crisis at Christmas". As result of additional donations (both from those who attended and some who did not) a total of £140 was raised for the charity. Judging by the response of those there the ticket price will be higher next time!
Thank you all
Richard Cluley