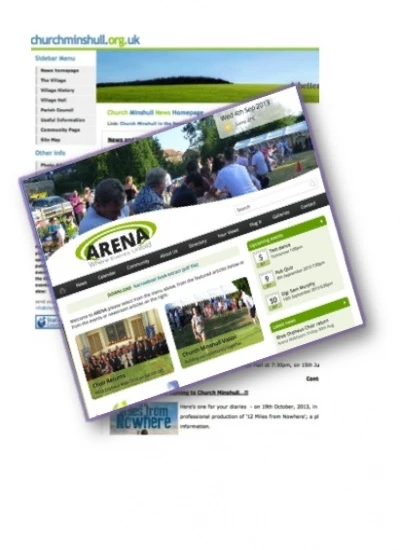 As winter approaches in 2013, some of our community have already been spending a lot of time indoors preparing for an exciting sign of progress in our parish. November sees the launch of the ARENA website to provide Church Minshull and potentially, a broader community, with a fresh and dynamic tool.
A positive change for our community
Larry Bannon, Vice Chair of Church Minshull Parish Council who has led the preparation for this exciting new venture, explains the thinking behind the new website:
"The Parish Council has been aware for some time that there was an opportunity to expand on the good work by those who created and have run the Church Minshull website. We want to make use of advances in publishing tools and embrace the broader engagement with the digital world for social interaction and communication. The idea behind ARENA is to create a place to join up our community and build on the progress that the CM Vision team has achieved to increase awareness of existing activities and initiatives in our area but also to enable new ideas to be developed and communicated more easily, hence the name – ARENA – a place where events unfold."
Using new technology
The new technical platform that is being used, will enable more people to get involved with editing and maintaining the content held on the site. The capabilities will allow the site to grow with the ideas generated and in particular will present stories, opinions and ideas in a much more dynamic way than has been possible previously. One of the ideas is that given that Church Minshull and our neighbouring parishes are quite small, by possibly involving a broader community with the website, then both the number of events and scope for interesting content, could be increased and the costs and work involved could be shared. This was another reason for not branding the site specifically to Church Minshull.

Funding the origination of new site has been achieved almost entirely via an Awards For All community grant and a small team has worked with local company, ThenMedia, which is based in Audlem and Chester and which has specifically developed the technology and services to support local community websites. The Parish Council expects to fund the ongoing licensing charges and continue to own the website domain and other channels that will be developed.
Larry continues, "Those of us involved so far are very excited about what we should be able to achieve with ARENA and would welcome feedback and ideas, especially during its early days. We would also be interested to hear from those who would like to get involved with ARENA. We expect many local organisations to benefit from its capabilities."