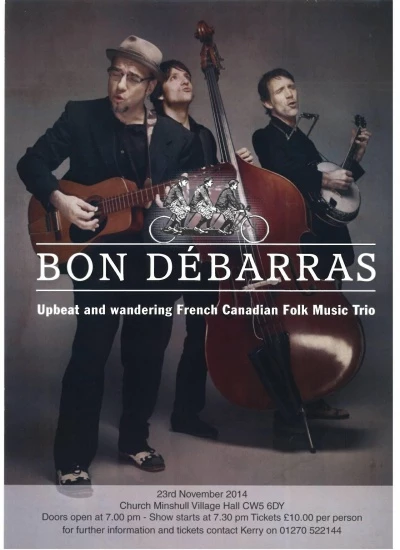 The Canadian trio open a door to their recollections of America/Canada and their music is at the intersection of various traditions. Their energy taps into rhythms of today and ventures boldly on the multi-faceted road to tomorrows dreams.
Bon Debarras' inspriation comes from their home base, Montreal, one of the most cosmopolitan cities in Canada. While remaining true to their roots, the three musicians are drawing on living traditions and various influences to explore more avenues.
With their guitars, banjo, mandolin, accordion, washboard, harmonicas, step dancing and percussion the group creates a brilliant musical atmosphere and a high energy evening.
Suitability: All (7+)
Tickets: £10.00 Contact Kerry on 01270 522144
Sunday, 23rd November 2014 @7:30pm in Church Minshull Village Hall