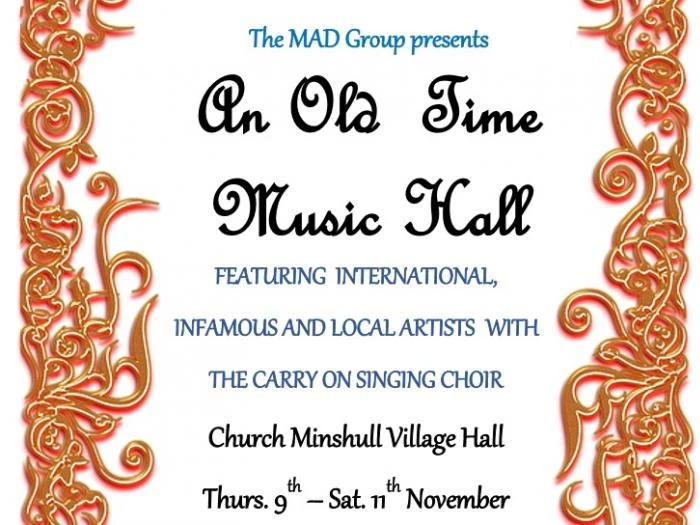 'An Old Time Music Hall' Debuts in Village
LATEST NEWS – Tickets now SOLD OUT for ALL sperformance.
Minshull Amateur Dramatics Group (MAD) announces the debut of its 'An Old Time Music Hall' production, in collaboration with 'Carry on Singing'.
This 'one of a kind' feel good show will allow the audience to take 'a step back in time' to the Victorian era and enjoy a good old sing-song to classics such as "Daisy Daisy", "Maybe it's because I'm a Londoner" and "Lambeth Walk". The audience can also expect an eclectic mix of monologues, poems and sketches together with a seriously 'hammed-up' Victorian Melodrama, 'The Lighthouse Keeper's Daughter'.
With both adult and child performers and a large dose of fun and hilarity, this production is one not to miss.
'An Old Time Music Hall' is running 9th, 10th and 11th November 2017 at Church Minshull Village Hall. Doors open at 7pm for a 7.30pm performance and tickets cost just £10 each.
The audience is invited to come dressed-up in Victorian fancy dress should they wish to. A licensed bar will also be available.
For tickets, phone 01270 522266 or email TicketSales@MADGroup.co