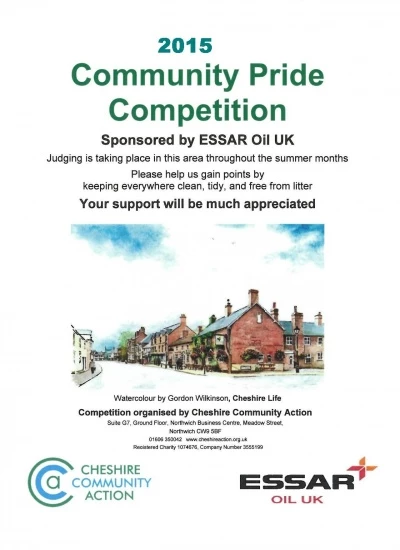 Community Pride Awards
Nominations and entries for these competitions are invited annually by Cheshire Community Action for the various Community Pride Awards, which are sponsored by Essar Oil UK.
Church Minshull has entered a number of categories in 2014 and 2015.
The headline award is the 'Best Kept Village' category and judges visited Church Minshull in May 2015, to assess our entry against the award criteria for that year.
Litter picks and footpath cleaning take place in most areas, and householders and residents are asked for their support, by trimming hedges which overgrow the footpaths and picking up any loose litter they may see, along the way. The local support for this initiative has been really appreciated.
Church Minshull has been very successful at these awards which are announced in October at a well attended event.
Other categories entered are: