Answer to November's quiz question: which tree may be made from the number one sweetener with tea? Well, the answer is Hawthorn. First up the clue "may" — hawthorn is also known as Maythorn. The scientific name for Hawthorn is Crataegus, this being a cryptic anagram of ace (number one), sugar (sweetener) and t (tea). Didn't tell you it would be easy!
December quiz answers: — you'll have to wait a few days for the answers to the last questions as they've only just been posted!
1: A bit of this joins hills ... (9) Partridge
2: Thrush stubbed one to get a peck (9) Mistletoe
3: You'd be mad to pull them! (8) Crackers
4. Addicts might get cold, but better roasted (6) Turkey
5. I thought about an audible complaint but this eased it (6,4) Mulled wine
6. Ant's pal gains warmth at this time (8) December
7. Sounds like very small agents, eaten at this time of year (5,4) Mince pies
8. She's often sung now (6) Carols
9. This describes where the baby lay (4) Crib
10. To be honest I was almost made angry receiving this gift (12) Frankincense
11. Its aired after lunch in New York, with a fruit (6,6) Queen's speech
12. And finally .... easiest of all .... "24 hours after being in the ring" (6,3) Boxing Day
August 2019 flower picture quiz: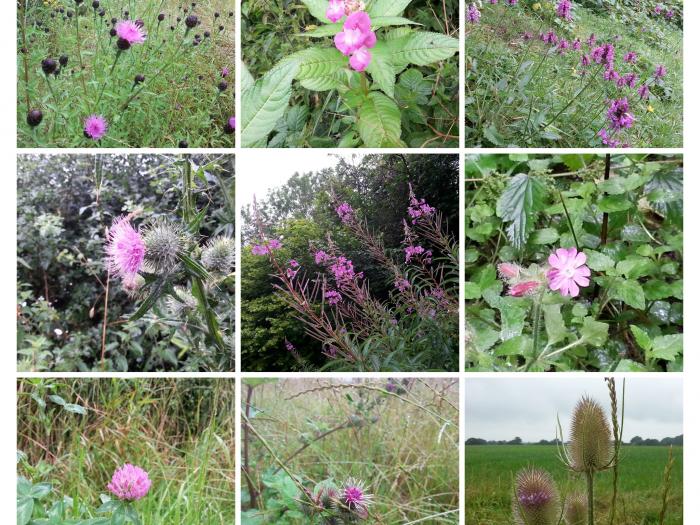 Top line from left — Great Knapweed, Himalayan Balsam, Betony
Middle line from left — Spear Thistle, Rosebay Willowherb, Red Campion
Bottom line, from left — Red Clover, Common Burdock, Common Teasel
Well that is what himself thinks they are — anybody know better then please contact me and I'll put him straight!