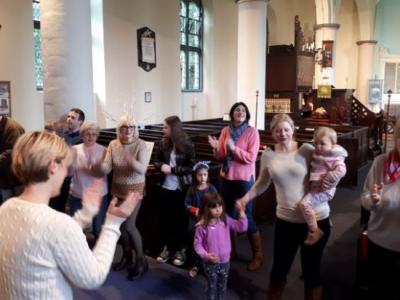 Celebrating the Wedding at Cana
26th February 2017.
We had a wonderful Messy Church today with a wedding, remembering the one at Cana where Jesus turned the water into wine. We began with Isabelle pouring water into a glass jar and the water turned into a rose wine colour.
After our service we had a dance like we were at a Jewish wedding and snaked all around the church. Naomi then played the part of a caterer at the Cana wedding and John interviewed her. She told us of the marvellous happenings at the wedding. Everybody then decorating some fairy cakes. After another song led by Sue, we said The Grace and settled down to our refreshments which included the cakes we had decorated.
We were especially pleased to welcome our new youngest member to Messy Church, Ryan James Lloyd, born on 22nd January 2017, weighing 8lbs 3oz. He slept all the way through our noisy service, accompanied by big sister Jessica, Mum Sarah and Dad Jonathan.
Sunday 18th December 2016 11am.
We had a good number at Messy Nativity, and all the children, dressed as Angels, Shepherds & Kings performed beautifully. Click here to see picture Gallery
"A Children's Nativity Story", written by Angela Yardy is a humorous, rhyming Children's Nativity play with narration and familiar upbeat Christmas tunes which we enjoyed singing.
Afterwards there was Refreshments and lots of time to chat.
Messy Church -- A Fun Way to Worship
2016 is our 4th summer of Messy Church and each time we have had a different theme for our Services. This year we are thinking of the Teachings of Jesus.
In July despite inclement weather we put up the Church tent and went outside to sail boats across the water as Jesus did when he went to speak to the 5000. The children each collected 5 bread tablets to put in their boats and fished for 2 magnetic fish, we all got a bit wet but will certainly remember the Feeding of the 5000.
In August 2016 we were thinking about the flowers of the fields from Matthew 6. Jean Jones came to lead our craft session. Jean is a talented flower arranger and she spoke to us all about the meanings of the flowers, We made some beautiful greeting cards and bookmarks with flowers she had pressed. The adults enjoyed it as much as the children, it was a super activity for all ages.
It was a lovely sunny day for Messy Easter Service on Palm Sunday and we began with Jesus' entry into Jerusalem, with a craft session, making Easter baskets. We then watched a film about the Last Supper and Crucifixion, before the baskets were filled with coloured straw, eggs and chicks. Another film showed the Resurrection and after a final hymn, Lord of the Dance, loudly sung with musical instruments playing, we said The Grace and had a special Easter Blessing from the Rev. Anne. Tea and toast followed.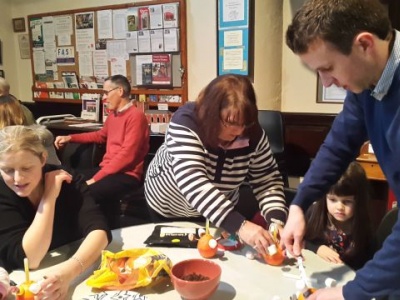 Messy Christingle — January 2016
It was all hands to making the Christingles from the word go. Oranges were ribboned and decorated with cocktail sticks covered in fruits and sweets. Finally, candles were added to the top and everyone moved into the pews for the service.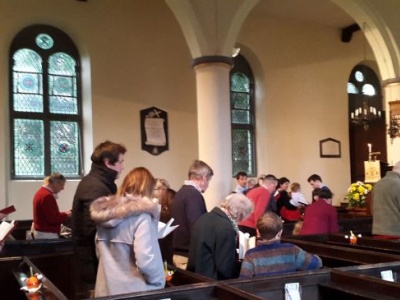 The Rev. Anne led us in our act of worship and after a talk about the church as a huge Christingle, the candles were lit. After we had sung the special Christingle song we had toast and refreshments.
In Summer 2015 we made a Messy Church Banner, inspired and assisted by one of our members, Sue Buckley.
Our oldest member, Vera Headon, at 96 years old and our youngest member, Jessica Boote, at 4 months old brought the banner into Church for the first time during October 2015's Messy.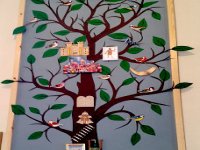 Stained Glass Windows & Jesse Tree
In our Craft sessions we have created some enhancements to our Church. Please come and see our beautiful stained glass windows that have been created out of acetate, designed by John Headon and painted by our members. You will also see our Jesse Tree with symbols depicting the ancestors of Jesus and showing in a family tree, rising from Creation through Jesse — the Father of King David, and ending with Jesus at the top.
About Messy Church
The first ever Messy Church began in 2004 at St Winifred's C of E Church near Portsmouth. It has been recognized as a new form of worship by the Church of England and is spreading across denominations and continents. We will find Messy Churches throughout the UK and Europe, and as far afield as Australia, New Zealand, USA and the Falklands.
Messy Church is a Church service, Bible based with Christ at the centre of all we do.
However it is a service based on creativity, hospitality and celebration, using song and band instruments, dance, drama and animated films to bring to life the stories of Jesus and the Old Testament.
Messy Church at St Bart's
St Bart's Messy Church began with a small congregation in January 2013 and has grown steadily since that day. We have a great Messy Church team and we are all very pleased to have welcomed so many new members to our Church, with a regular Messy Church congregation of over 30 members every month.
Messy Church is usually held on the 4th Sunday of each month — please check Village Arena website Calendar for dates. We look forward to welcoming you!
Messy Nativity December 2015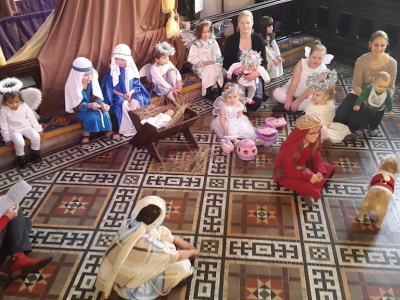 We performed our Messy Nativity play to a record breaking congregation. All our younger members dressed up as angels, shepherds and kings in the time honoured way. There was lots of glitter, and this year we also had a donkey, although not a real one.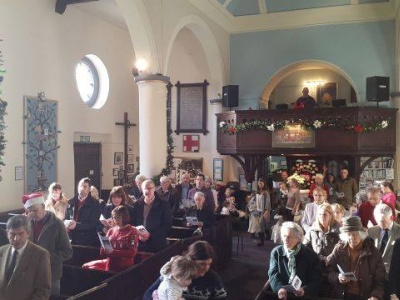 "A Children's Nativity Story", written by Angela Yardy was a simple, rhyming Children's Nativity play with narration and familiar Christmas tunes which we all enjoyed singing. Afterwards there was mince pies and coffee and lots of time to chat.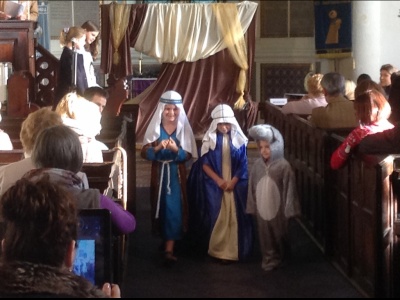 We were so proud of our Messy Church children, they enacted the wonderful story of the birth of Jesus beautifully