Messy Church is a Fun Way to Worship for all ages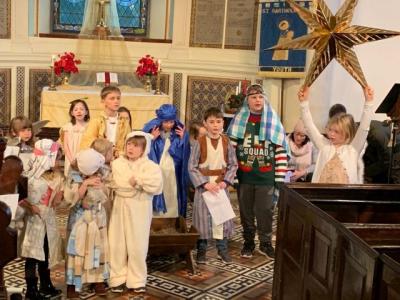 Messy Nativity — 23rd December 2018
We had a fantastic turnout for our Nativity play this year with 27 children joining in. The play was narrated by John and Penelope, who played the Archangel Gabriel. There were lots of Shepherds, angels and wise men and even a sheep. We sang Away in a Manger, We wish you a Merry Christmas and Oh Come All Ye Faithful. Afterwards there were drinks with mince pies, chocolates, biscuits and lots of crackers to pull.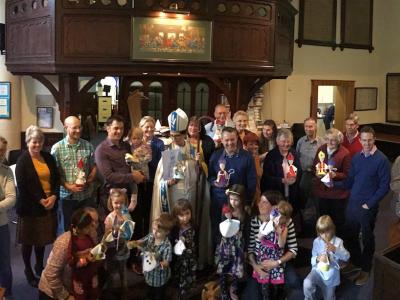 Bishop Libby Lane Bishop of Stockport comes to Messy Church
On the 24th September, at Messy Church, our subject was 'Joy' and it was a particularly joyous occasion, because we had the Bishop of Stockport with us. Bishop Libby was the first female Bishop in the Church of England and she talked to us about the special things she wore, the meaning each had for her and how they remind her of her joy with her faith and in her work.
Later, after the craft session making 'mini bishops' she again spoke about the things that make her happy and the children joined in with some of their favourite things, even doing maths at school! We had our usual songs and dances, and Bishop Libby did a conga to 'Marching in the Light of God' up the church aisle, followed by the children and adults.
We held hand in a circle blessing each other with The Grace. This was followed by refreshments of Pizza, scones, biscuits and drinks. We all enjoyed the visit and hope it won't be too long before we see Bishop Libby again.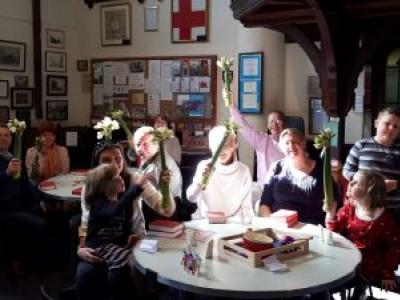 Messy Mothering Sunday
26th March 2017.
We hade a very full service for Mothering Sunday and after we had sung and prayed, particularly for those caught up in the London attack, the children were kept busy decorating photo frames. Each was then filled with a picture of the child and they then presented them to their Mums. Sam, Alfie and Naomi all recited poems or readings to their mothers and Penelope sang a song. After singing another hymn and playing along with our band instruments, bunches of daffodils were given out to everyone. We all joined hands for The Grace on this beautiful sunny day, and then stopped for drinks and loads of chocolate cake!
Click here to see Messy Church Archives