Café Church is non-traditional — Inclusive and Welcoming for all
We held our first Café Church at St Bart's on 13th September 2015, and were so pleased that it was well attended. Our theme was Love and Friendship, we had some interesting discussions, and were encouraged to top up with more cake and coffee. In October 2015 even more people attended and we looked at the subject of "Forgiveness".
Café Church is non-traditional, providing an inclusive, accepting and welcoming space for everybody, no matter what your beliefs. Café Church is church with a conscience and revolves around hospitality, open discussion, creativity, justice and an alternative approach to life.
It is fully supported and is actively encouraged by the Church of England, but is run by a team of parishoners and not the clergy.
Some of our previous Cafe Church events:
New Beginnings — Cafe Church 13th Jan 2019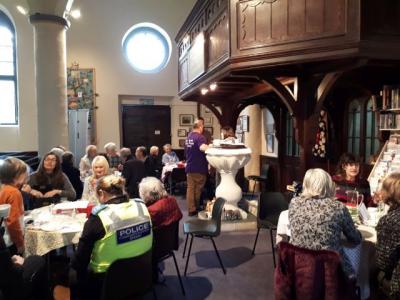 The service today was centred around the need to clear out clutter at the beginning of a new year and we were encouraged to imagine ourselves a glass and to fill it with liquid to represent our personal clutter, leaving a gap at the top to represent the space we leave for God. Afterwards, we threw the clutter out, or in this case, the liquid into a bucket, which was then thrown out. We heard some wise words, one being a saying from Judy's mother, who quoted Pastor Joseph Brotherton. He said, "My riches consist not in the extreme of my possessions, but in the fewness of my wants". We were reminded of Jesus' parables and how he urged us to pray persistently. We were blessed with a good congregation and pleased to welcome some who had been unable to visit for a while.
The Big Celebration at Café Church 11th June 2017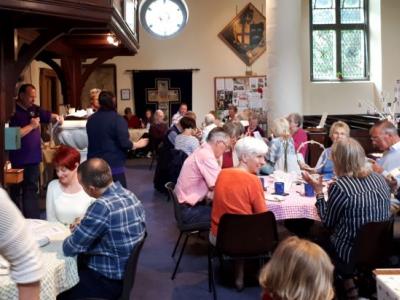 The largest congregation ever turned up for The Big Celebration today. It wasn't a problem, we just got more chairs out from storage and everyone squeezed in. We remembered Jo Cox, murdered last year, but also turned to remembering the victims of the Manchester and London atrocities. We sang songs, lit candles for those who had died, gave thanks for those who had helped and prayed for all who were suffering.
Our readings were about love and how it conquers hate and we pledged ourselves to stand with everyone, rejecting the message and actions of hate and following Jesus' message of love for all. There were tears shed as Josh Groban sang 'You Raise Me Up, while the children made pictures of Manchester bees and woollen crosses.
A successful service for all, so thanks to everyone who attended.
Palm Sunday Café Church 9th April 2017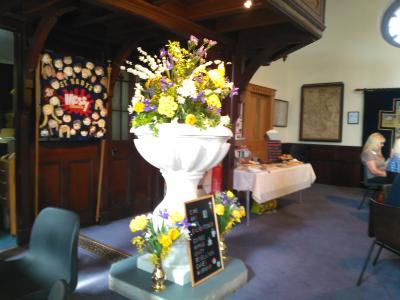 Today was Palm Sunday, so Café Church was in a reflective mood, with much of the service dedicated to what happened in that first Holy Week and how Jesus would have felt about it. Judy brought in a ram's horn instrument from Israel and we started by listening to the type of song sung by the crowd as Jesus entered Jerusalem on Palm Sunday. With the sun outside and the door wide open it was easier to imagine what the atmosphere would have been like that day.
Jean Jones read our prayers for the first time and we remembered all those suffering today, both locally and throughout the world.
Happy Easter from the Café Church Team!

Click here to see Café Church Archives
Return to St Bart's webpage