Café Church is non-traditional — Inclusive and Welcoming for all
The Big Celebration at Café Church 11th June 2017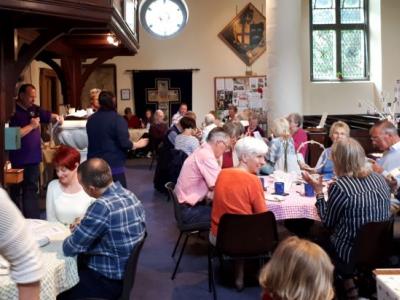 The largest congregation ever turned up for The Big Celebration today. It wasn't a problem, we just got more chairs out from storage and everyone squeezed in. We remembered Jo Cox, murdered last year, but also turned to remembering the victims of the Manchester and London atrocities. We sang songs, lit candles for those who had died, gave thanks for those who had helped and prayed for all who were suffering.
Our readings were about love and how it conquers hate and we pledged ourselves to stand with everyone, rejecting the message and actions of hate and following Jesus' message of love for all. There were tears shed as Josh Groban sang 'You Raise Me Up, while the children made pictures of Manchester bees and woollen crosses.
A successful service for all, so thanks to everyone who attended.
Palm Sunday Café Church 9th April 2017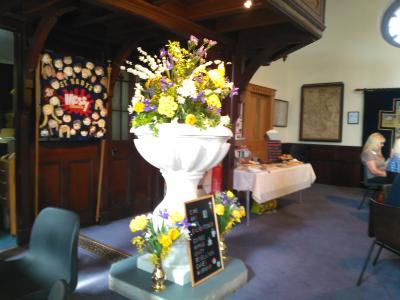 Today was Palm Sunday, so Café Church was in a reflective mood, with much of the service dedicated to what happened in that first Holy Week and how Jesus would have felt about it. Judy brought in a ram's horn instrument from Israel and we started by listening to the type of song sung by the crowd as Jesus entered Jerusalem on Palm Sunday. With the sun outside and the door wide open it was easier to imagine what the atmosphere would have been like that day.
Jean Jones read our prayers for the first time and we remembered all those suffering today, both locally and throughout the world.
Happy Easter from the Café Church Team!
February 2017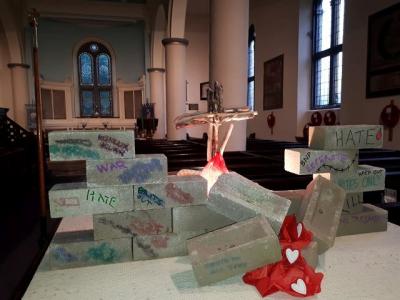 The subject was 'Walls' today and what a lively subject it proved to be, while we discussed the building of walls and how to deal with them.
During the interval everyone was asked for some actions for the church to follow and two were agreed upon. The first was to explore reaching out to the Muslims around us to ensure there were no barriers between us and Shaun, John and Rob agreed to follow that up. The second was to explore adopting a refugee family and seeing what we could do to support them. Jane and Jean will follow up a lead in one of Friday's national papers.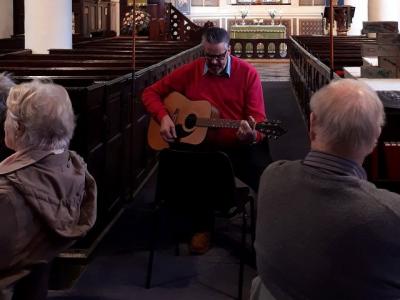 Our music was supplied today by Ken, who sang some of Elvis' gospel songs and introduced each with a history of who had written them or who had found them inspirational.
The coffee and cake kept coming and the service ended half an hour late after this emotive service just kept coming too.
Café Church 10th July 2016
'God welcome's Allsorts' was the theme for the July Café Church. We learnt about the diversity in all sections of society including; Race, Creed, Class, Gender, and Orientation etc and how we should be tolerant and accepting of all people, whoever and whatever they are as God does. We are all equal under the cross of Jesus. Various members of the congregation acted small parts as Jesus' friends and disciples and it became clear what a diverse group of people they were; good, bad and everything else in between. We also heard about how old testament characters such as Noah who became drunk and disgraced his family after coming out of the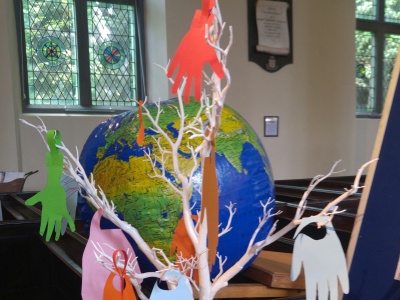 Ark and surviving the great flood. We listened to a very poignant song written by a current Christian song writer; Stuart Townend called 'Vagabonds' to which all people are welcomed 'Come to the Feast, there is room at the table' went he chorus. We were pleased to be joined by the Arch Deacon of Macclesfield; Ian Bishop to the service, who kindly acknowledged the good work that is being done at St Bart's.
This was reinforced by many of the congregation who at the end said it was 'The best' Café Church yet!
There is no Café Church in August due to the holiday season. We will be back on Sunday 11th September, our first anniversary!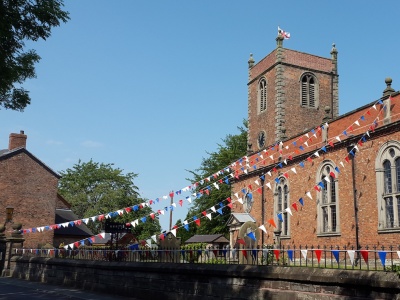 The Queen's 90th Birthday — June 12th 2016 at Café Church
The Church is dressed for the occasion — Our Queen's 90th Birthday Celebration at Café Church. All is ready for the crowd to arrive — and they did! We were really pleased to welcome our local police for the service.
After hearing of the work our Queen has done on behalf of this country and reading a letter she had sent to us, we prayed for her and for her continued service. In true proms style, there was some rousing singing of 'I Vow to thee my Country', 'Jerusalem', 'Land of Hope and Glory', 'Rule Britannia', 'Happy Birthday' and the 'National Anthem'.
Kerry Bannon, Chairman of the Village Vision Group, which had secured a grant for our celebrations from Cheshire East Council, cut the special cake and proposed the 'Loyal Toast'.
Lunch followed and was washed down with many bottles of bubbly.
THANK YOU to our team at St Bart's for a fantastic event.
click here for picture gallery
Todays subject was 'Journeys' and on a hot day with a good crowd it was easy to think about the journeys we make, particularly holidays. We heard of the journey we can make with our own faith, that of St. Paul in our scripture readings and the path taken by Jackie Pulinger to Hong Kong. The children coloured pictures of the transport we use to make a journey and each table gave us a testimony of the roads some of us have trodden. The spontaneous applause was well deserved and we thank all those who spoke.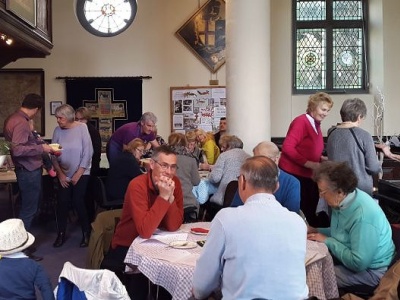 The theme of April Café Church was 'The Simplicity of Prayer' and we shared the forms of prayer given to us in the Bible and sung to us by Christopher Duffley. Jane told us about his amazing story and Lynn gave us thoughts on the types of prayer, when to pray and how to pray. Our hymns were 'Father I place into your hands' and 'Shine Jesus Shine' all played on the new sound system which had it's teething problems.
Thanks to everyone for sticking with it and especially for joining in with the 4 men doing their 4 Purple Tops rendition of 'Reach out, I'll be there'. (Our apologies go to the 4 Tops).
Mothering Sunday at Café Church 6th March 2016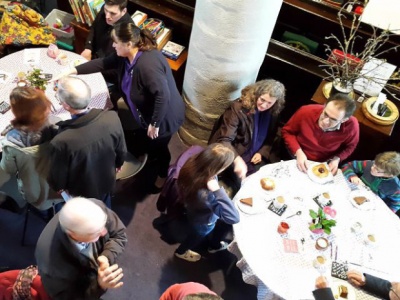 We anticipated a lighter congregation for our Mothering Sunday Café Church as many of our regulars were away for family gatherings....Wrong!
The sun streamed through the windows, the coffee and cake were ready and the people kept on coming 'til we simply ran out of chairs. After an introduction on the origins of this special day and how we can celebrate it with Simnel Cake we listened to music and heard a reading about mothers and wives. The activity was charting up what makes a mother happy and makes her sad, while the coffee and cake continued to flow. The children decorated glass jars and suncatchers to give to their Mums and helped give everyone a bunch of daffodils. More music was played and our prayers were followed by our final hymn, which had everyone playing instruments and clapping along as it came to a resounding finale. After ending with The Grace there was a final 'sing along' to 'We are Family' by Sister Sledge and nobody seemed to mind that time was passing by and we were nearly at lunch time. It was lovely to see faces, both new and familiar and travelling from all around to join in the service.
This was on St Valentine's day and our theme was love — God's love.
After hearing the story of St Valentine and how the idea of cards was begun, we went on to listen to Bible references to God's love for us. We listened to music and a narration, we prayed, had a quiz and of course, we drank coffee and ate lots of cake.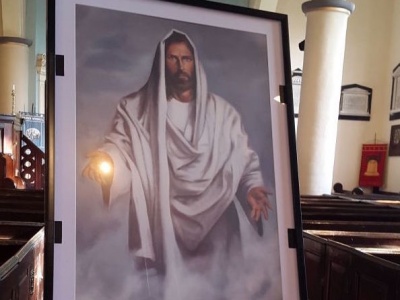 The children made cards and at the end there was dancing to Barry White. We displayed a new picture of Christ today and when it was photographed for the website, we noticed the light in His right hand. It was a reflection, but how very apt!
The theme of the Day was New Beginnings and after readings and hymns, members shared their own experiences of new beginnings in their own lives. There was a practical from Tim, showing how putting God first in our daily routine can work and a humorous true story from John about how a lack of preparation can lead to disaster.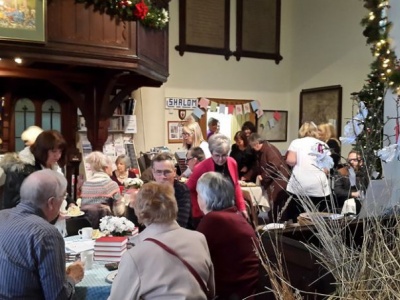 Jane and Lynn led prayers. During the service the children made a 'Light of the World' bookmark and they gave them out to everyone at the end. The cakes were good and coffee today came from our new milk steamer, so Kevin and Shaun got a round of applause for the kitchen service. You're invited to join this new 'Fresh Expression' time, based around people being sociable with others.
December 2015 Cafe Church
We had our biggest turnout to explore the subject of Poverty which Tim began with an account of what he sees daily at work in Salford. We went on to consider how Jesus was born into poverty and became a refugee in Egypt. There were prayers and songs on the subject and a statement was read that Prayer should be followed by Action. To this end we have split our £200 collection between Shelter and St. Paul's Church in Salford where so much good work is being done.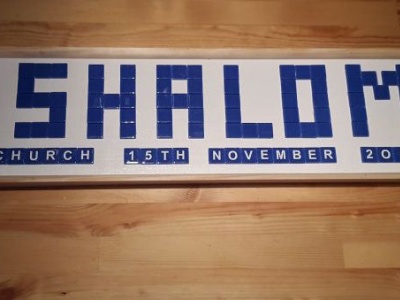 November 2015 Café Church Theme was War and Peace, which is so relevant after the shocking events that have taken place in Paris. Our thoughts and prayers are with the people of Paris, Nigeria and all parts of the world that are suffering from war.
We talked about the impact war has on the world. There were readings and poems and we sang and listened to songs that had great relevance. The children made peace doves and these were hung on the prayer tree at the end of the service.
After a break we heard the story of the painting of Jesus as 'The Prince of Peace' and learnt about the full meaning of the Hebrew word for peace 'Shallom'. We then used mosaic tiles to make a Shalom sign that will be hung at the back of church when finished. It symbolises how we can all come together to make peace.
About Cafe Church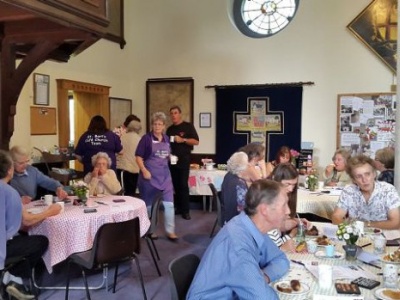 We held our first Café Church at St Bart's on 13th September 2015, and were so pleased that it was well attended. Our theme was Love and Friendship, we had some interesting discussions, and were encouraged to top up with more cake and coffee.
In October 2015 even more people attended and we looked at the subject of "Forgiveness"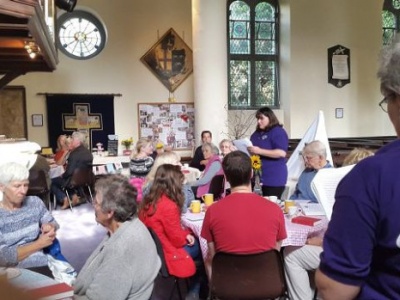 Café Church is non-traditional, providing an inclusive, accepting and welcoming space for everybody, no matter what your beliefs. Café Church is church with a conscience and revolves around hospitality, open discussion, creativity, justice and an alternative approach to life.
It is fully supported and is actively encouraged by the Church of England, but is run by a team of parishoners and not the clergy.