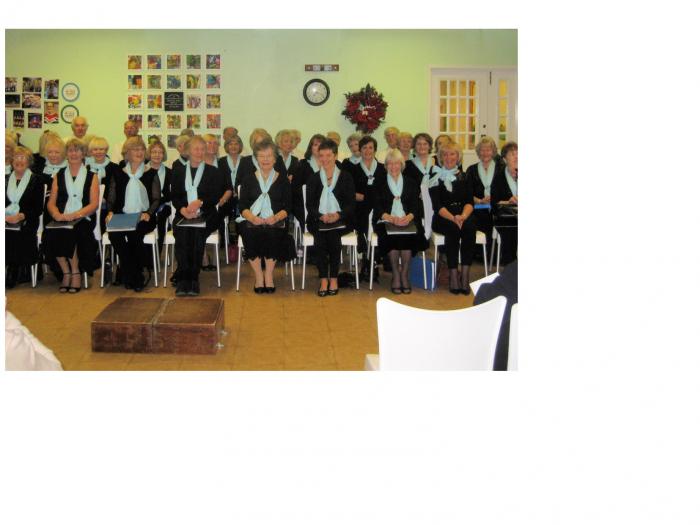 Carry on Singing meets every Wednesday in the Village Hall from 2.00 — 4.00pm. Whatever the quality of voice, everyone is welcome to join as long as they have enthusiasm for singing. We sing songs from the shows, music from all eras, folk songs etc. There are no auditions. The subscription is £2 per session.
HISTORY
The first singing group was formed in 2007 as 'Sing for Fun' and met fortnightly on a Thursday evening. The first concert they ever performed was at St. Bart's and raised £155 for the church. The numbers at that time were under 20 and we had to apply to Cheshire Grass roots for a grant to enable the group to pay for the use of the village hall; the Lottery fund together with a donation from the WI paid for a digital piano which is now part of the equipment available for use by any village hall users.
In 2011, a second group was formed ' Sing for Pleasure which came under the auspices of the Crewe and Nantwich U3A. This group met on a Wednesday afternoon on alternate weeks so that singers could now sing each week if necessary.
Over the next four years both groups combined to perform to raise monies for Wrenbury Church, St .Andrew's Church at Bedford Street , St. Bart's to raise money for the Silver Jubilee celebrations as well as a further concert to raise money for St. Bart's itself. For the past 4 years a sing-a-long has been arranged at the Badger the week before Christmas.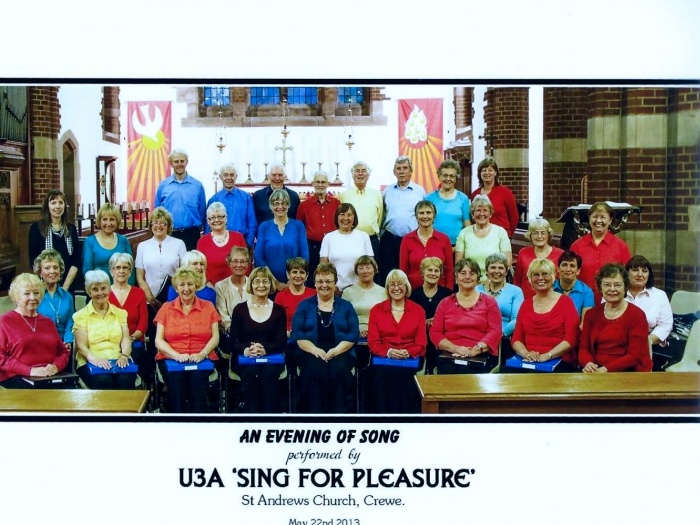 In July 2015 The two singing groups which still meet at Church Minshull Village Hall metamorphosed into Carry on Singing and have now become one. Neither group is now part of U3A, so participants are welcome from all geographic areas.
The meetings are now every Wednesday from 2.00 — 4.00 but the concept is still the same.
If you fancy a stimulating sing, come and join us. There is no age limit or joining fee, just £2 whenever you turn up. Each week there are between 35 and 50 people participating so if you are shy there is no problem!
The music is very varied, from Show music to Negro Spirituals to Glen Miller and anything else you can mention.
You do not have to have a good voice or read music and there are certainly no auditions. The most important thing is ENTHUSIASM.